Grinders are a ubiquitous part of a smoking kit. I've barely ever seen a jazzy one in real life. Everyone I know has a basic silver piece that they've never replaced. Why did everyone buy a boring one? With all of the interesting products on the market, we can definitely afford to buy a more interesting grinder.
I settled for a normal aluminum grinder for much too long. I had absorbed my old roommate's grinder. She had bought an Introductory Stoner kit when she first started smoking, but immediately stopped trying after she had a few bad experiences. I ended up taking most of the kit, God bless her soul.
It's a cheap old metal thing at this point. It has been two years and it has ground about an ounce a month. It's covered in green dashes of plant material and stickiness. It only grinds up about one gram of weed because I know how to force it in. I've never cleaned it.
A while back I felt like it was important to customize it. I went on Amazon and bought a Dremel. That's a hand-held engraving tool. It was in my closet for a few weeks because it was so intimidating. I turned it on once and it was so loud and unwieldy. Eventually I worked up the nerve to try it. It's extremely loud! It's very shaky, like I imagine a tattoo gun to be. After few practice attempts I brought out my grinder. With a few safety precautions I engraved my initials in a beautiful little design on the top of my grinder. I was very very happy with it I'm really excited to show people when they're over to my smoking area.
At this point I am interested in replacing the thing entirely. This lead me on a long search for grinders. I've seen grinder before when I developed older articles like in 15+ Adorable Pink Smoking Accessories, but none of them were particularly exciting to me. I found that the coolest grinders are on Etsy. Here is a round up of my favorite pieces!
This is a cheap basic grinder with a very cool paint pattern. I love splattered paint. The white one looks like a jawbreaker. This one is only $9.99 for a 4 piece, which is about what you would pay at a store for a small grey one.
This is a very quality two piece grinder. It is very sturdy and has great reviews. Two piece grinders can be kind of a pain. I always recommend using a rolling tray and a separate storage container with them. 4 piece grinders allow you to store the ground cannabis in an empty layer of the piece. A 2 piece grinder makes it hard to get the cannabis out because it has to be picked out from between the grinding teeth.
This might be mildly outdated, but I love a pop culture reference. Having the laser engraving extend to the end of the piece makes it look well made.
This is such a bright and sunny piece! It really reminds me of how cannabis is a plant. I have my smoking patio covered in plants. It's a great thing to be stoned around. I would buy this piece to match that vibe.
These skateboard grinders are made of real skateboard! This company compresses skateboard wood together and carves out a two piece grinder. That practice is very ecologically friendly, and the company plants one tree per grinder sold! They seem like a very flexible small company if you want to have custom orders.
"The Kiss" is such a beautiful piece of artwork. I love how the strong gold tone of the grinder compliments the painting. It is a very tasteful design. It would probably make a very good gift for an artistically minded person.
This has to be included. Please buy this Lord of the Rings grinder and nerd out while you're grinding up your weed. The laser engraving created some really fine lines. At $19.99 for a 2.2″ piece, it really feels worth the price.
This shop is very reverent of the symbols they use. They hand burn the wood into symbols that represent Hindu traditions. This Peacock feather represents incorruptibility and spirituality. The shop also hand makes the grinder itself. Having pieces with this spiritual energy to them can make a smoking session feel more spiritually connected and reverent of the experience.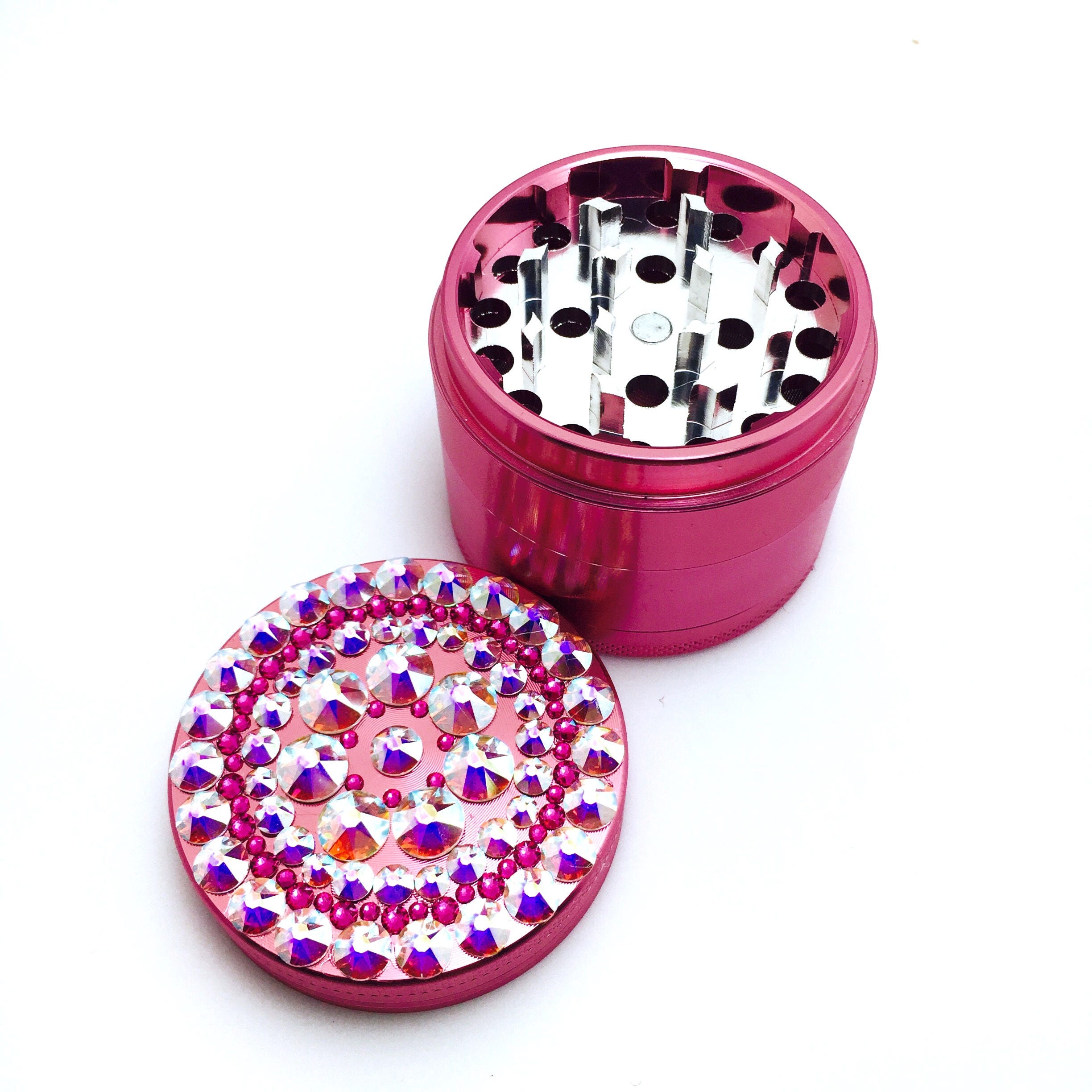 Swarovski is the real deal in pretty sparkly things. It has this beautiful shine to it that I could look at for entire minutes on end. This product is made of zinc alloy instead of common aluminum and has 3 different chambers. This shop has a few options of Swarovski studded grinders and they are all well thought out designs that really capture the look of the crystals. These would make great gifts.
I know so many witchy women who would love an Amethyst studded grinder. It's above some people's price range for a grinder, but the construction of the top design is very impressive.
I think it's fun to have an Oreo grinder. If the middle two parts of the grinder were white it would be perfect. It's cute to have an munchies thing on your cannabis grinder, it sets a mood.
There are a lot of rainbow grinders on the market, but this is the first one to feature this unique construction, glow in the dark/blacklight feature, and trippy peacock design! This 4 piece grinder has notches for easy grip. The holographic rainbow color runs inside and out of the piece. At $24.45 for a fancy titanium grinder it is well worth your money.
This is a standard wood two piece grinder but it features a beautiful hand painted top. There are deep blue marble swirls with gold accents over the top of this piece. The aqua color really brings out the tones of the rest of the grinder.